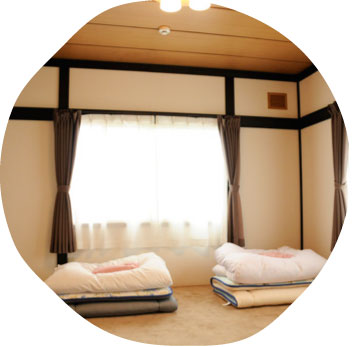 What is the real advantage of using TOHO?
We try to provide opportunities to enjoy conversation with tourists. Unlike youth hostels, many TOHO houses are very compact-capacity is around 20, which enables you to speak to all the guests in one night. It is one of the attractions of touring to make friends and exchange information with them. Some of us offer small tours around the houses, and others offer hot spring tours for guests. So check with the owners, as well as the regular visitors.
Accommodation
We are trying to provide tourists with low prices, therefore, our accommodation policy is basically shared rooms. Women's and men's rooms are separate.
Cost
Lodging costs depend on the house. It is about 5,000-6,000-yen per person per night, which includes two meals.